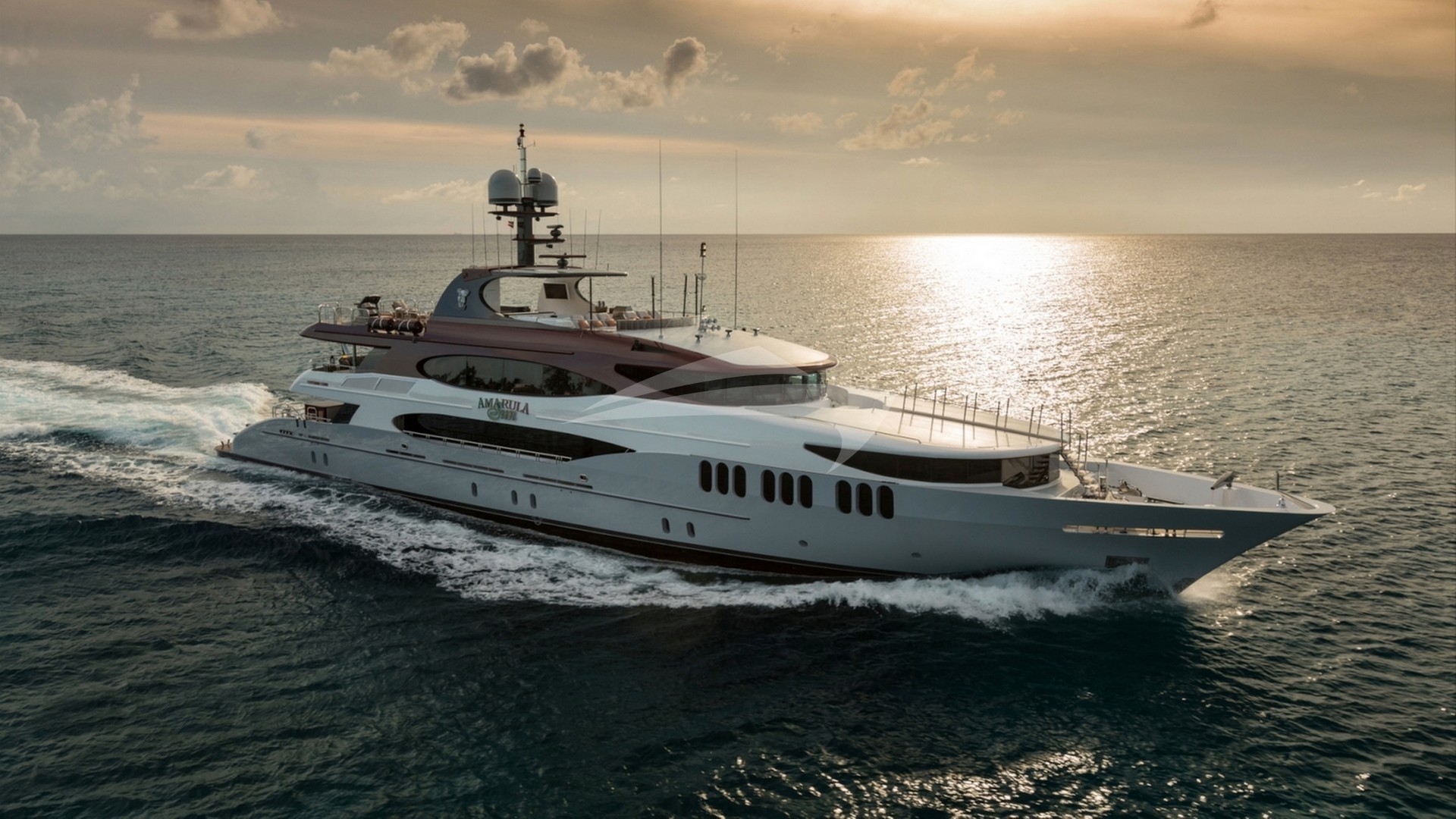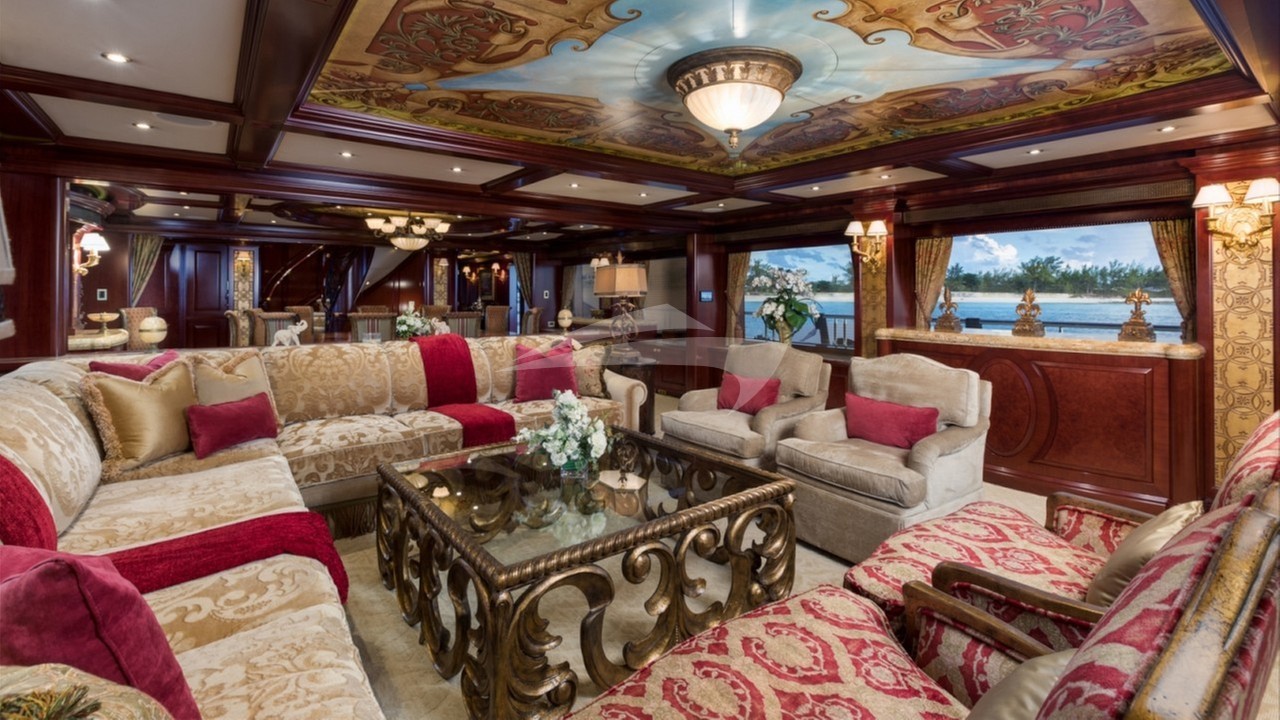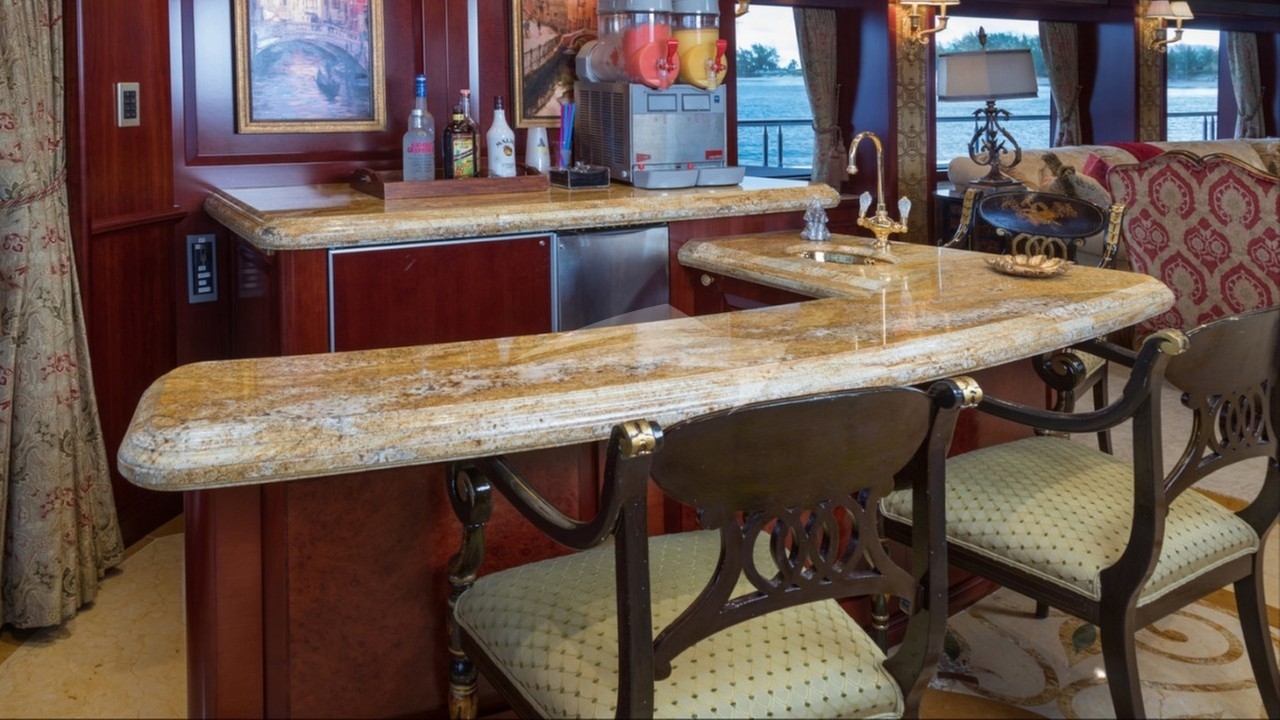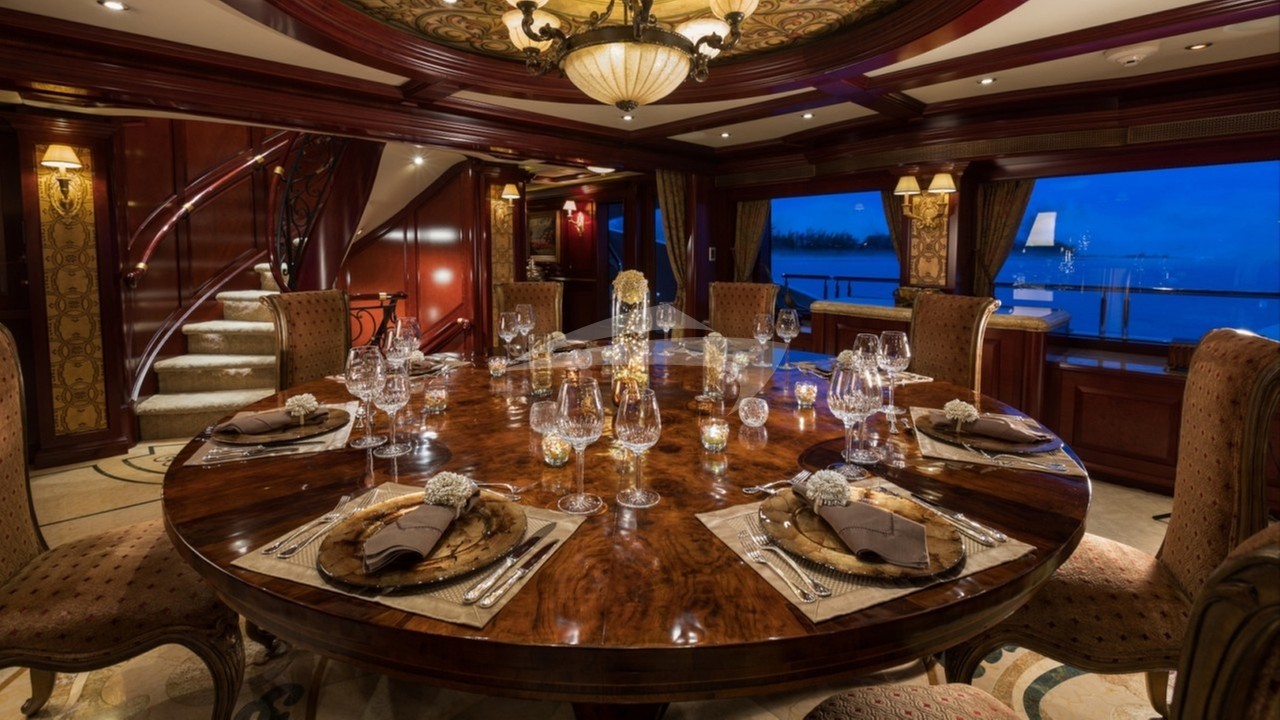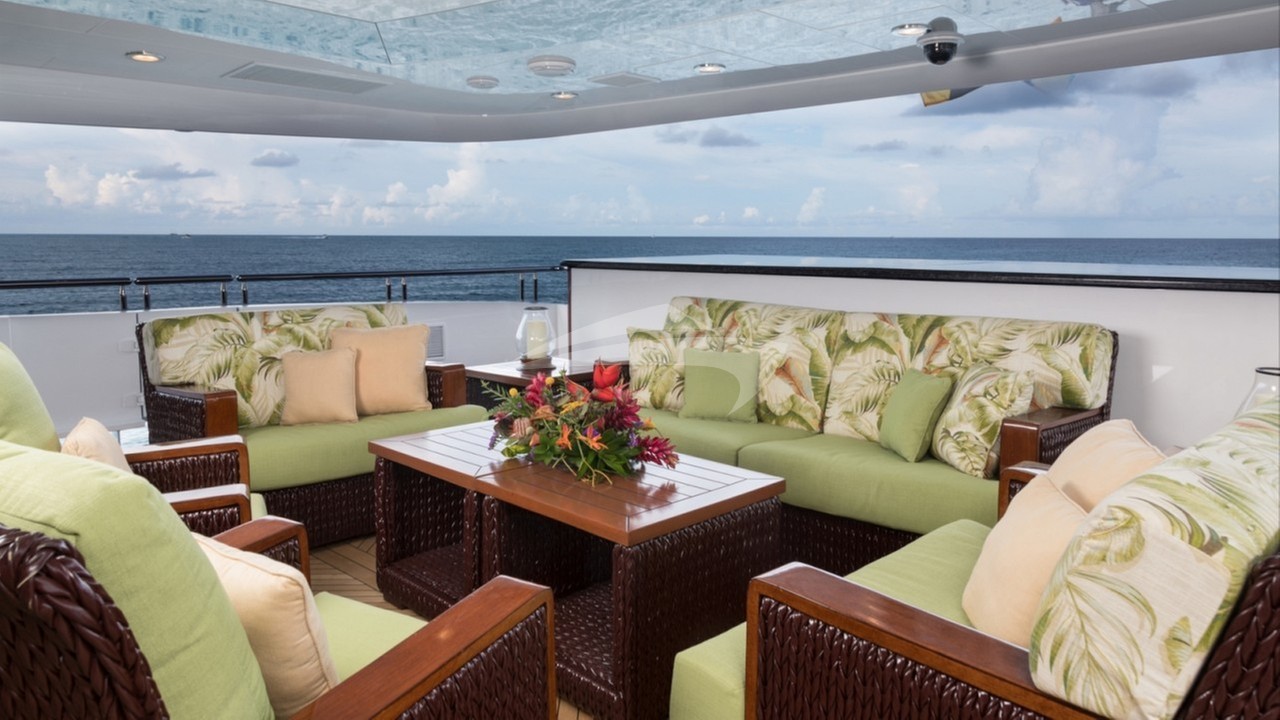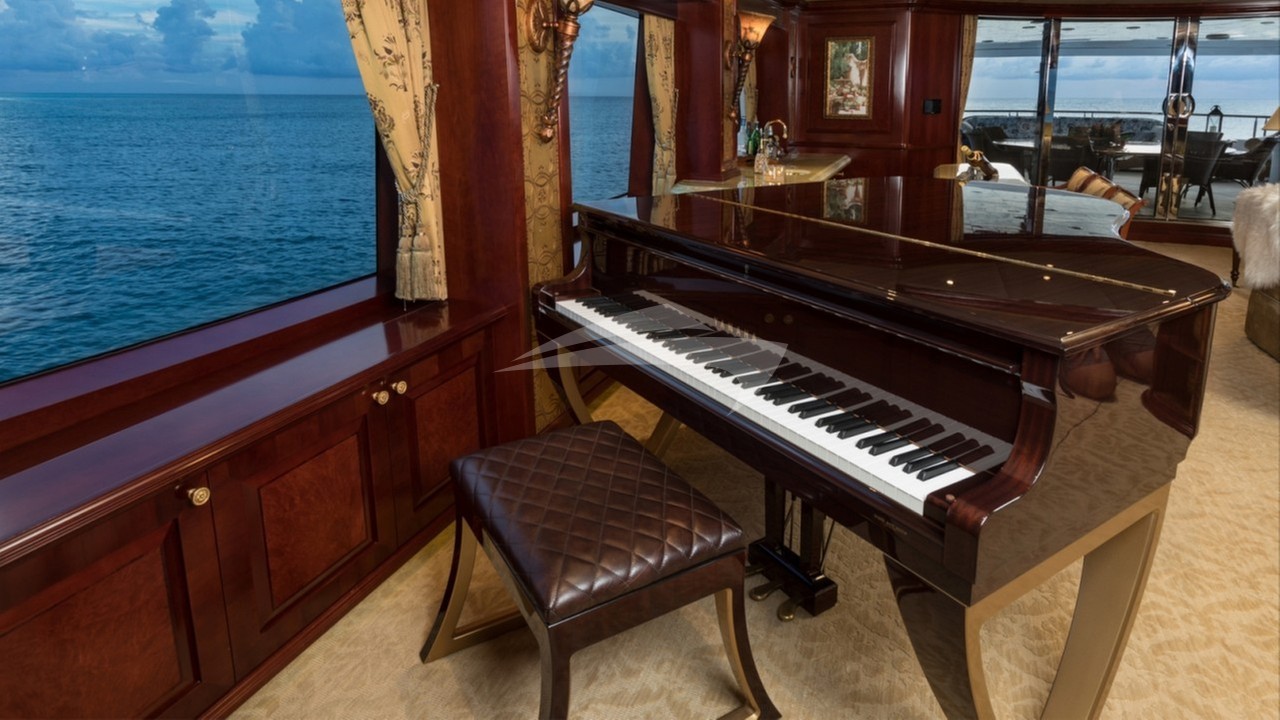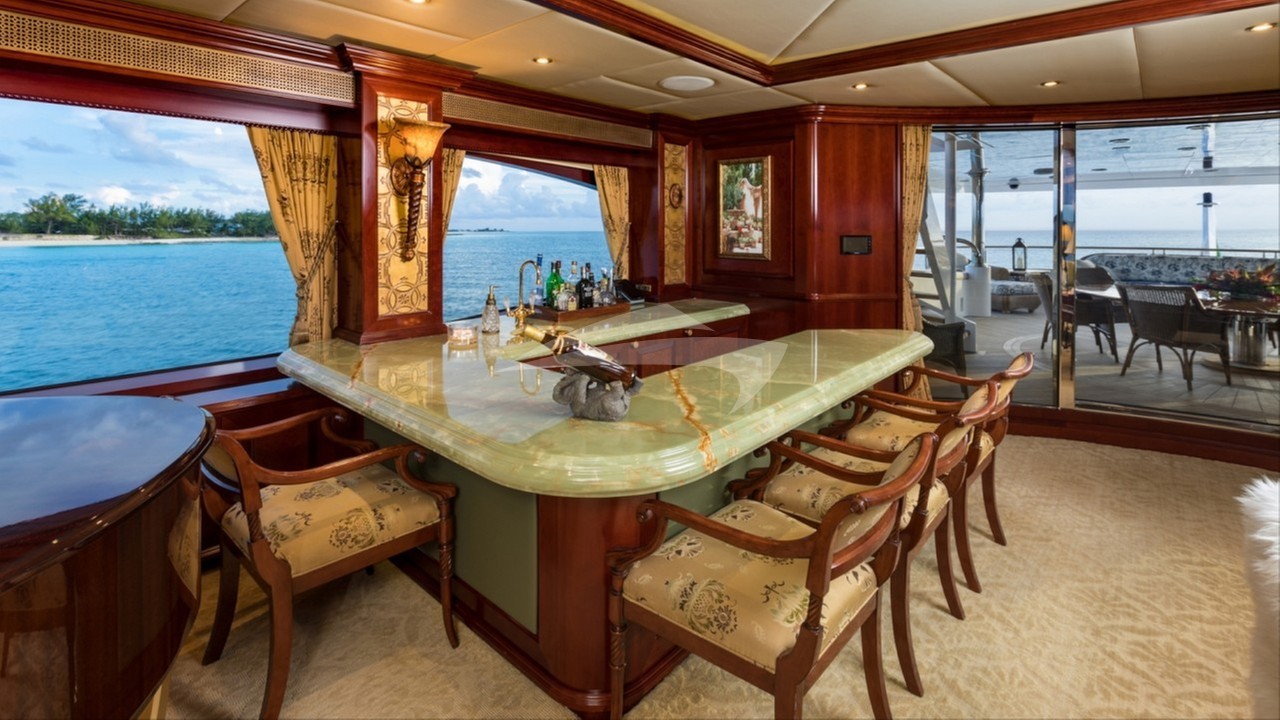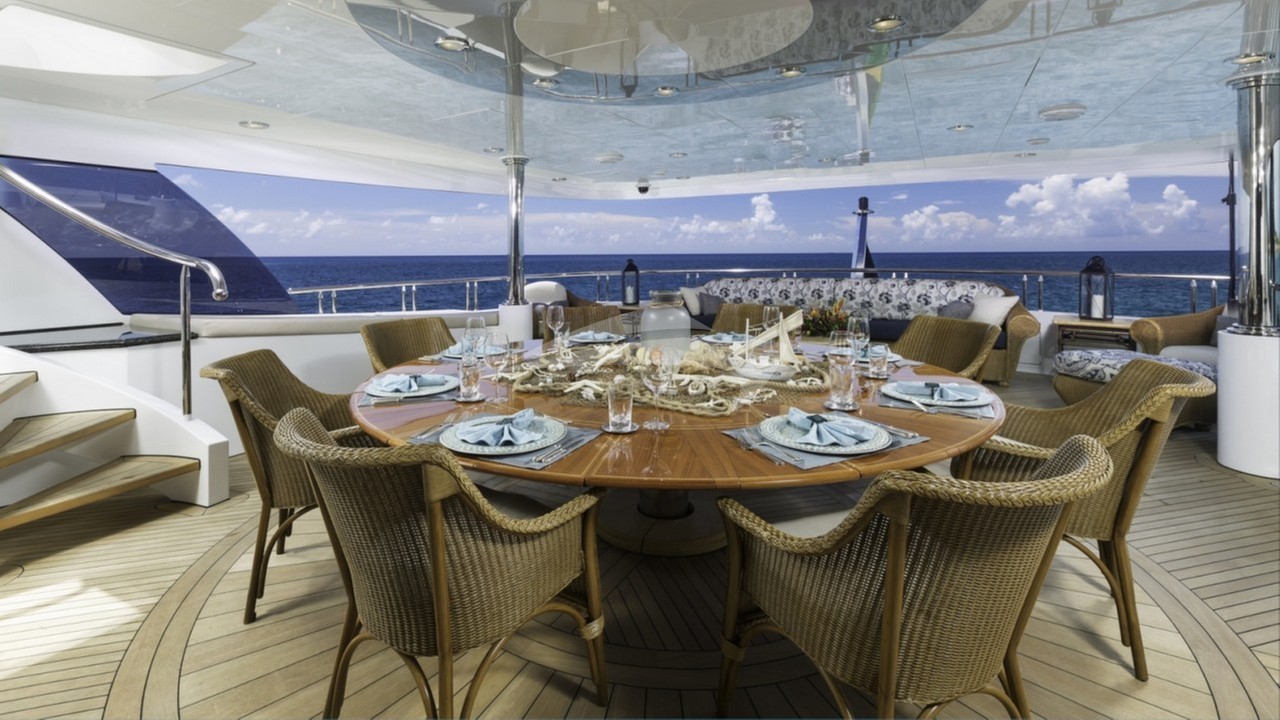 |
Year (Refit):
2008
(
2018
)
|
|
Charter Fee From:
€166,000
Ideally suited for any type of luxury yacht charter guest, the 164-foot (50m) luxury Trinity superyacht AMARULA SUN is beyond exceptional. As soon as you walk up the passerelle, you will be treated to the utmost five-star, on-water luxury imaginable. Captain Albert and his professional crew will treat you to an extraordinarily fun-filled holiday filled will gourmet food, lavish amenities and a full suite of the top-of-the-line tenders and toys.
Stepping aboard the main deck aft, you will find the first on board lounge; this is an ideal space to enjoy morning coffees as you cruise or sit back and socialize, among other activities. Through the sliding rooms, you will enter the main salon with its full bar to the left. Complete with two frozen drink machines, this is an ideal spot to begin your charter. Whether it's a multi-generational trip — mom and dad can enjoy frozen cocktails on the aft deck while the kids play with the water toys — or a friends' trip in which everyone grabs a delicious frozen libation and settles in to watch the embarkation port fade into the distance, AMARULA SUN truly is a yacht for everyone.
Yacht Details Overview

| | |
| --- | --- |
| Length: | |
| Year (Refit): | |
| Guests: | |
| Cabins: | |
Captain Albert is a well-known and knowledgeable captain with an extensive cruising experience onboard various vessels, these include, luxury yachts, sport fishers, sailing catamarans as well as passenger ferries. Puerto Rico, San Juan is where Captain Albert originated from, practically born on the water. He spent his childhood on board his fathers fishing boats cruising the waters of Caribbean from the Dominican Republic, Puerto Rico to the Virgin, Windward and Leeward Islands. In 1998 Captain Albert obtained his Master 50 Ton license and during the day he ran sport fishing and catamaran charters and by night he captained 200 passenger ferries. Once he obtained his 200 ton license, he began work as a delivery captain delivering new yachts from U.S shipyards to their owners in the Caribbean and Central America. Through this experience it allowed Captain Albert to expand his cruising repertoire to include the Eastern Seaboard, Florida's West Coast, The Bahamas, Mexico, Panama and Costa Rico. Captain Albert obtained his 3000 ton license and then found a home in the yachting industry on a 85 foot yacht as a captain and throughout the 11 years following that he ran a great number of private and charter yachts, including the 120 foot custom Hargrave yacht La Vida and the 141 foot Trinity Big City. He now proudly captains the 164 foot Trinity, Amarula Sun.
Mark grew up on the east coast of South African in Durban with the warm waters of the Indian Ocean. There his love for the sea was born. Before Yachting he worked in the Civil Engineering industry for 6 years but the dust just wasn't as good as the Ocean and here he chased the summer and entered the world of yachting. His yachting experience starts from the East coast of the US and into the Bahamas for lengthy time and then onto the Mediterranean. Mark loves to keep active, grew up surfing, he enjoys any extreme sports, Kite surfing, dirt biking and diving a few of his favourites. He is a laugh and can be entertaining around people.
Growing up in a small harbour town Knysna in the heart of the garden route in South Africa, he was basically living on the water, fishing, diving, and enjoying water sports. That's when he then started to grown a love for the sea. For a career he was robotic technician, building and programming robots in the automotive industry. After he spent two years with his company he looked to take his vast skill set to the ocean and found his calling as a yacht engineer. Dewald never looked back again and has enjoyed his last 7 years sailing to some unique places all over the world
Michelle Riherd sails as Chief Stewardess aboard MN Amarula Sun. After growing up in Michigan, Michelle travelled to Key West during a Spring Break in college, and her life changed forever. It was in Key West that she was first introduced to yachting, and she has been happily working on yachts for eighteen years. Michelle loves the constant change of scenery, meeting new people and hearing the interesting life stories of all of the colourful characters she has met through travelling. Always up for the next big adventure, her yachting career has taken her from British Columbia to the Bahamas, and she counts St. Maarten and Dominica among her favourite destinations. She has homes in both Fort Lauderdale and Sweden and, when she is not at sea, she enjoys playing squash, mountain biking, home projects, or simply surrounding herself with her favourite people. just sitting around a campfire. Michelle is excited to start yet another adventure aboard MlY Amarula Sun. Her friendly personality, finely-tuned service skills and attention to detail will delight Amarula's guests and make their charter experience truly unforgettable.
Wayne Dominico Gallo Nationality: South African/British Years on yachts: Seven Cruising experience: Med East-West, Bahamas/ Caribbean, South Pacific, Mexico, Panama and Costa Rica Personal skills and interests: Authentic local cuisines, Discovering new culinary cultures, 12 years in restaurant industry, Avid surfer South African by birth with ancestral roots in UK and Italy, Wayne Grew up in Durban, Kwa Zulu Natal on the east coast of South Africa, where he first began his culinary journey in the restaurant business. He then moved to the UK in 1991, and continued on his culinary adventure. Having spent a lot of time traveling around the world, food has always been at the top of his to do list. Yachting was a great combination for him after having worked and managed many restaurants in South Africa, UK and the Caribbean. Wayne joined the high seas working on yachts in 2009 and has never looked back. Creativity is a specialty of Wayne's, and he is happy to conjure up anything your palate desires, and cater to specific dietary requirements. With his mixed culture background you will find a fusion cuisine combining local ingredients with exotic flavors. From hors d' oeuvres, to a formal dinner to a midnight snack, his culinary delights will tantalize even the most discerning taste buds. In his free time he enjoys watersports, finding new surf hot spots, and diving.
Maria was born in Poland where she grew up and slowly developed an affinity for life at sea. After graduating from University with a degree in Quality of Industrial Products, she moved to Florida to start her adventure with the super yacht industry. Maria began yachting career aboard various motor yachts, where she quickly developed a love for the industry, gaining experience in all Interior departments. Previous hospitality background, gave her great understanding of the industry. From creating the perfect ambiance, to making beautiful table set-ups and creating great cocktails, she is always up for any challenge. With a passion for all aspects of hospitality so as event management, she enjoys working in dynamic team and looks forward to welcoming guests on board Amarula Sun. Maria loves to travel, discover new places, people and cultures. She has an active and outgoing personality. Maria is a family oriented person however so as the independent woman. That is why she loves to create her own space in order to grow and learn from life. Good books and bike riding lover.
Ellen comes from a town in Norway called Sandefjord, which is known for its fjords and whale hunting. She has spent most of her childhood vacations on a boat with her family, and could never imagine not living along a coastline. She speaks six languages and has a passion for traveling, especially with locals to see the parts you often don't experience as a tourist. After high school she studied international marketing with her last year of bachelor degree in Singapore, where she got to travel all throughout Asia. She worked in a Cosmetic distributor company in Norway, and her last position was as a HR and Marketing Manager in Norwegian Fire safety. After hearing about yachting while barbequing with some friends, she decided to sell her furniture, rent out her apartment, and buy a one-way ticket to Fort Lauderdale to pursue this amazing new career path. It has since been one of the best things she never knew she wanted
Andres was born in a small Colombian town. He moved to the United States with his family when he was fourteen years of age. He quickly learned the language, and was able to graduate from high school. Soon after, he enrolled in Florida Atlantic University to study finance and economics. While attending college Andres started working on a yacht detailing company working directly with yacht brokers and owners all over South Florida. Rapidly he felt a special connection with the ocean and the boating industry. After graduating from college he realized that he wanted to pursue a career in the yachting business. This became and easy transition for him since he had years of experience working on boats. The ocean became his second home, he truly enjoys his life working on charter yachts. Spending so much time in the ocean made him a great swimmer and he quickly picks up on new sports. Some of his favorite activities are surfing, paddle boarding , and snorkeling. Andres is kind, patient, and most importantly an endearing ind
Waldo grew up in a small town called Knysna in the Garden Route in South Africa His hometown can be described as "forest meets ocean" and that's where he's love for hikes and water sports started. Waldo loves Photography/ videography and shares his experiences of his adventures. Before Yachting he worked in Construction for 2 years and then turned to start his own Finances business that he has had for 10 years.
Yacht Details
Yacht Details

| | |
| --- | --- |
| Builder: | |
| Crew: | |
| Cabins: | |
| Guests: | |
| Year Launched: | |
| Year Refit: | |
| Length: | |
| Beam: | |
| Draft: | |
| Hull: | |
| Engine: | 2 x Caterpillar 3516B-HD at 3384 hp each |
| Stabilisers: | |
Amenities
Beach club
Exercise equipment
Fishing gear - light
Gym
Helipad
Jacuzzi on deck
Sun cushions
Sun loungers
Swim platform
Toys
Assorted water toys
Banana boat - towable
Jet board
Jet pack
Jet ski (standup)
Paddleboard
Wakeboard
Water skis - adult
Water slide
Wave runners multiple (sitdown)
Diving
Snorkeling gear
Underwater scooter
Electronics
Cinema
Media movie server
Satellite TV
Wi-Fi